---
Thomas KASMER
Hydristor

---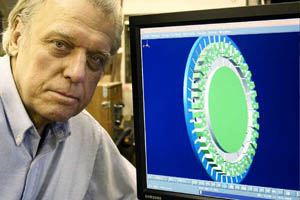 Thomas Kasmer
http://www.hydristor.com
tkasmer@yahoo.com

---
US Patent # 6,022,201 --- Hydraulic Vane Pump with Flexible Band Control
US Patent # 6,527,525 --- Hydristor Control Means
US Patent # 6,612,117 --- Hydristor Heat Pump
US Patent Application # 20050036897 --- Rotary Vane Pump Seal
---
PESWiki.com ---
The Hydristor is an infinitely variable vane hydraulic pump/motor -- a simplified automatic transmission with no gears, with regenerative storage capability, offering to double or triple the mileage per gallon, and to cut emissions by 75%. Vehicle performance will improve, enabling any car to go from 0 to 60 in three seconds using stored energy. Kasmer expects that the fuel-to-motion efficiency will be as high as 80%, compared to the low 30% range of present. The engine will last twice as long, because it can operate in its optimal range, and it doesn't have
to work as hard. Brake wear will be negligible.
The hydristor unit will come in 4-6 basic sizes and will install inside the bell housing, replacing the transmission and clutch. The engine will no longer be a direct drive to the wheels, through the transmission, but will keep the hydristor unit adequately charged, and the hydristor unit will drive the wheels. The unit will store the energy from the engine and from braking and from going down hill, to be used for acceleration and speed maintenance. The engine could even be turned off for stretches of driving, while the vehicle runs on the stored energy.
Kasmer also envisions pneumatic air pressure storage systems being employed that would enable up to 40 miles of travel without the engine running at all. A ten gallon air tank compressed to 5,000 psi is enough energy to propel a vehicle 40-50 miles. The Hydristor systems are being engineered to hold 10,000 psi.
Another system Kasmer intends to include is a heat pump that will harvest the heat from the exhaust and radiator, to convert it into electricity. In another industry, this heat pump principle could also be used for electricity generation via the temperature difference between the ocean and the air. Kasmer thinks this could be done at a price that would compete with conventional energy sources. One Hydristor hydraulic unit will handle up to ten separate, variable demand tasks simultaneously.
Interview:
http://www.pureenergysystems.com/news/Radio/Free_Energy_Now/recordings/2007/071022_TomKasmer_Hydristor.mp3
( Sterling D. Allan conducted a live, 1-hour interview with Tom Kasmer as part of the http://freeenergynow.net radio series )
---
---
http://www.pressconnects.com ( Sunday, May 8, 2005 )
Hyping the Hydristor
by JEFF PLATSKY
Press & Sun-Bulletin
Vestal man travels across country to promote new form of auto transmission
He talks with the conviction of an evangelist on a religious revival.
The eyes are penetrating. The conversation is focused. His full, 6-foot, 2-inch frame and the head of wavy, gray hair and youthful look belie this 65-year-old. It's hard not to notice Thomas E. Kasmer. And if you give him a minute, you won't soon forget him.
"Talking to Tom is like trying to take a sip out of a fire hose," said Paul Robinson, an acquaintance from Modesto, Calif.
Kasmer, of Vestal, just returned from a 7,000-mile journey -- driving a GMC box-van with a John Deere lawn tractor tucked inside -- preaching the gospel of his Hydristor to anyone who would listen.
Kasmer's odd-named Hydristor -- a combination of hydraulics and transistor -- is a device that, he says, will revolutionize the auto industry by cutting fuel costs, providing more power and reducing emissions. The Vestal resident boasts, with no hint of self-doubt, that his invention, now installed in that lawn tractor, will not only change the auto industry, but will also change the world.
"It changes the entire paradigm of the way energy is handled," Robinson said.
That's a hard sell. And coming from an often intense Kasmer -- a man who thought he could single-handedly transform the auto industry a decade ago with a sports car called the Mag One -- it's a sell that often stretches the limits of plausibility. But there are enough experts attesting to the feasibility of Kasmer's design to lend him at least a hint of credibility.
The Hydristor, Kasmer says, replaces the transmission and the torque converter in an internal combustion engine, rendering it more efficient than traditional methods.
"The Hydristor solves the age-old dilemma in the auto industry," Kasmer said. "It gives them the power they want in a car that lasts for more than eight years."
As explained by Alan L. Hitchcock, editor of Hydraulics & Pneumatics, a trade magazine, the Hydristor is a vane pump or motor that uses two pairs of pistons to vary the shape of a flexible pumping chamber. Kasmer says coupling a Hydristor pump back-to-back with a Hydristor motor forms a continuously variable transmission.
"It's just like changing the sprockets on a multi-speed bike," said Cliff Carlson, a former automotive engineer in Fenton, Mich.
The device allows the engine to run at far lower revolutions per minute than now possible to get the power necessary to operate a vehicle, Kasmer said.
"We have asked some experts that we know about the Hydristor," said Wayne Walker of Republic Aerospace in Duncan, Okla. "The assessment is that it has potential and would be a substantial advance and innovation."
Walker, chief executive of Republic, was one of the many Kasmer visited during his cross-country trek. Walker saw the Hydristor-outfitted lawn tractor and believes there may be potential for this device to deliver the efficiencies Kasmer claims.
"The efficiencies have to do with the continuous nature of the transmission coupling," Walker said. "The savings are in energy and there are savings in weight."
Big 3 snub
First, for Kasmer, there was the lawn tractor prototype. Now comes the hard work. The man who has done undergraduate and graduate work in physics at Binghamton University and once worked for IBM Corp. is outfitting a Ford Expedition with a Hydristor to further prove that the device delivers the kind of performance he promised on the open road.
"The minute I get a Ford Expedition running (with a Hydristor) I'm going to have to run from the paparazzi," Kasmer said.
Kasmer, as you can tell, is no wallflower. During his recent trip, he spent another five days in Las Vegas in March pushing his Hydristor at a construction and hydraulics trade show. The curious crowded around him. The well-connected industry types largely ignored him.
There are plenty of skeptics, not least of which is the auto industry. He says he's had limited discussions with the Big Three, but interest is tepid at best.
"The auto industry is very resistant to change," he said.
And Kasmer acknowledges that investors too are seemingly reluctant to shell out cash to pay for further research on the device. All Kasmer offers is his vision for a bold new world where the Hydristor is outfitted in every virtually vehicle known to mankind.
"Everyone out there gets 100 guys just like me a day," Kasmer said. "I'm fighting that. I'm kind of lost in the sea."
Kasmer's battling history, which is rife with eccentric inventors who say their contraption will revolutionize this or that. Many turn out to be nothing but frauds.
Hitchcock, the trade journal editor, knows the charlatans. He gets variations of perpetual motion machines pitched to him regularly.
Hitchcock, an engineer by training, was at first doubtful of Kasmer's claims, but the more he studied the theory and the applications of Kasmer's Hydristor the more he became convinced that there may some merit in Kasmer's approach.
"This is not a perpetual motion machine," said Walker of Republic Aerospace. The trade journal editor and auto industry engineer agree.
"He hasn't broken any laws of physics," Carlson said. "In theory, it should work. The biggest advantage of his system is that it's very small and compact. I don't think I've seen a variable transmission as small and as simple as this."
Unwilling to compromise
Getting from prototype to production, however, could be a large leap, especially for Kasmer, who is unwilling to compromise his business principles in the name of commercial success.
"I want to find financing where I don't have to give up control," Kasmer said. And the strident tone of his voice when speaking about the control of his invention, the subject of three patents, gives you the sense that he means it.
"Tom has every egalitarian, ethical goal in mind," Robinson said. "He wants to generate a win-win situation in all cases. He wants to see that the workers are honored, the shareholders are honored and the world gets his design."
Under Kasmer's scenario, the Hydristor will be manufactured in the Southern Tier, giving rise to a new growth industry for the region.
"I can have 5,000 people employed making Hydristors," Kasmer said, also noting its possible use for electric generation.
But the inventor readily acknowledges that he would rather spend time tinkering with his invention than drafting business plans. Getting the Hydristor from the prototype into production could be even more difficult than coming up with the invention. Kasmer is an independent spirit, not one to take kindly to outside help.
"He would benefit from a synergistic, experienced management team," said Walker, the experienced chief executive.
The main question for Carlson is whether the Hydristor can deliver the performance needed in the quiet setting of a passenger automobile. These devices, Carlson said, have the propensity to be quite noisy. Carlson wonders whether the device could first be used in construction machinery, where noise is less of a factor.
"He's got quite a ways to go before he can commercialize this," Carlson said.
No matter what advice outsiders give him, Kasmer will remain true to his cause. He expects the Hydristor-outfitted Ford Expedition to be ready in two to three months. He's confident that the three weeks he spent toting that John Deere lawn tractor from Binghamton to Tulsa to Las Vegas to Phoenix to Los Angeles to Bismark, N.D., to Minneapolis to Chicago to Jamestown will win him some much-needed financial and moral support.
"I'm going to keep on going because I know what I'm doing is right," Kasmer said.
---
Business Week (9-18-06)
Gas Saver Or Tailpipe Dream?
by David Welch
A new kind of hybrid uses hydraulics instead of batteries to save fuel
Thanks to high fuel prices, hybrid gasoline-electric vehicles such as the Toyota Prius are constantly in the limelight. But far away from that glow, government scientists, auto parts engineers, and garage inventors are toiling on a distinctly less glamorous way to save fuel. It's a hybrid vehicle that pairs a gas engine with a hydraulic transmission. You may associate hydraulics with ancient, oily gear lifting heavy loads on farms and construction sites. But like everything old, this is new again.
Whenever gas prices shoot up, inventors and tech companies come out of the woodwork, trumpeting the next mileage-boosting miracle. And certainly there is room for fresh thinking, since gas savings on hybrids and clean-diesel vehicles can take four years or more to make up for the difference in cost to the buyer. Maybe that's why parts makers such as Eaton Corp. and BorgWarner Inc. and a lonely inventor named Tom Kasmer are suddenly pushing hybrid hydraulic systems for everything from delivery trucks and garbage haulers to small cars and bicycles. The sales pitch: The hydraulic approach is relatively inexpensive. "This could be a better option than the hybrids on the road today," says Kasmer.
Hydraulic hybrids have been ignored because they present big engineering challenges, noise being one. Even so, Eaton and the Environmental Protection Agency teamed up with United Parcel Service to put hydraulic delivery trucks on the road. In tests, the prototypes get upwards of 50% better fuel economy. Kasmer himself has failed to connect with a big carmaker so far, but his hybrid approach, known as a hydristor, has attracted interest from Bobcat Co., a construction equipment maker. "The technology will start with large commercial vehicles," says Sohan Uppal, vice-president for research for Eaton's fluid systems group.
All hydraulic transmission systems have some basic features in common. They begin with a low-pressure tank filled with fluid, most often oil. When the driver hits the brakes, the liquid is pumped into a high-pressure tank. The pent-up fluid naturally wants to escape. But since it can't, pressure builds and energy is stored. Then, when the driver releases the brake and hits the accelerator, the liquid flows back to the low-pressure tank. Along the way, the rushing fluid turns vanes that rotate an axle, and the vehicle takes off. Only later does the gas engine take over.
Gas-electric hybrids also achieve efficiency by capturing energy from braking. But Kasmer claims his hydristor would be cheaper than the computer controllers and batteries in Prius-like hybrids. Working independently of Kasmer, the EPA, Eaton, and BorgWarner reached the same conclusion. BorgWarner put a prototype system in a Chinese-made subcompact car, raising its mileage from 33 mpg to 40 in tests, says Bill Kelly, vice-president for drive train development.
PEDAL POWER
It's in trucks, however, that the technology may really prove its value. Eaton's Uppal says the company has developed a system for garbage haulers that could reap terrific fuel savings because the vehicles could make up to nine stops in a row running on stored hydraulic power alone. EPA project manager John Kargul says that for a variety of trucks, the fuel savings from hydraulics could offset higher sticker prices in less than three years -- a tall order for today's pricier gas-electric hybrid designs.
Truly exotic applications may be at hand. Stymied in Detroit, Kasmer is working with a major bicycle maker that hopes to adapt his design to replace conventional chains and gears. Such a bike might prove easier to build and pedal because the hydristor would make seamless, gear-like adjustments as the rider pumped up and down hills.
Detroit's carmakers say that they have good reasons for keeping their distance. Thomas G. Stephens, group vice-president for power train operations at General Motors Corp., wrote in an e-mail that plenty of inventors have tinkered with hydraulics or related ideas. Yet he doesn't see how any could come close to doubling fuel economy, as Kasmer has claimed. And no matter how big their benefits, hydraulic systems are prone to leaks.
Then there's the noise issue. "[They] groan like the landing gear on an airplane," admits Kelly of BorgWarner. Considering their shaky financial situation, U.S. automakers aren't likely to spend the research money needed to iron out these kinks. They're even less likely to bet the $1 billion it takes to scale up production of a new transmission, Kelly says.
Kasmer still dreams of getting his hydristors into passenger cars. But he has to work on his presentation. When he spoke to a group of engineers at Munro & Associates Inc., a Troy (Mich.) engineering consulting firm with clients such as DaimlerChrysler and Boeing Co., the demo impressed some of the engineers. But when they asked him for technical details, he balked at giving away design secrets. Instead, says Sandy Munro, principal of the firm and one of Kasmer's financial backers, Kasmer lectured listeners about cleaning up the air for tomorrow's children. The techies wanted more info, and when it wasn't forthcoming, a few headed for the door.
---
The Future Of The American Automobile?
You Say Hydrogen, & I say Hydristor
An exclusive interview with Inventor Thomas Kasmer. By Eric Haase (11/11/04, updated 09/14/06) Danielle Randolph (copy editor); United States Media Corps.
Inventor Thomas Kasmer may have the "killer app" for your car's addiction to the Paleolithic era's byproducts. Hydrogen fuel cells are delayed in becoming integrated within the automotive industry because of the required changes in national infrastructure & a lingering liquid hydrogen storage tank problem (among other problems).
Kasmer claims his Hydristor can be implemented into the basic design of modern automobile drive trains to cut fuel consumption in half and increase, NOT decrease performance.
Perhaps equally important is the claim that most autos on the road today can be rather inexpensively retrofit with the hydristor. This would mean more immediate widespread results that could ease stress on the environment to a significant degree, while drastically reducing foreign oil dependence, & thus discontinue lining enemy pockets with U.S. money. It might be a bit harder to fly airplanes into buildings halfway around the planet if you're broke.
There is quite a bit of technical information available about Kasmer's patented Hydristor system on the web (follow the links at the end of the article for more information), but I wanted to find out what makes a guy like this tick. Kasmer developed the Hydristor virtually on his own with investments he solicited from private financiers.
The Hydristor has literally been a lifetime in the making. Hydristor combines the words hydraulic & transistor. Kasmer claims the automotive application is but one of the everyday needs this technology can revolutionize.. Or should I say 'evolutionize'.
---
http://www.automorrow.com ( March 1, 2003 )
Tom Kasmer and the "Hydristor".
by C. Koveleski, editor
Thomas Kasmer was born in Binghamton, NY., and at the age of 17 while attending high school he was awarded an apprenticeship for the IBM electronic training program in 1957. After two years, Tom enrolled at Harpers College for a curriculum of liberal arts in science. During this, he was hired by IBM as a consultant, and designed and co-patented the "Hydrapad", an automated hydraulic positioning drill for circuit board manufacturing.
With an growing interest in high performance automobiles, Tom purchased 1963 Buick Rivera with a variable pitch "Dynaflow" transmission and a 425 cubic inch engine, which "really cooked....". After some adolescent tendencies for high speed, Tom joined the SCCA (Sports Car Club of America ), attended a driver's school at Wakins Glen, NY. , and went on to compete at the White Face Mt. Hillclimb, racing a 1962 split window Corvette in the summer of 1964.
With an innovative idea for power and torque conversion on his mind, Tom decided he could do what no other could; build an infinitely variable hydrostatic transmission that was hydraulically and pressure balanced with the highest efficiency and horsepower on demand.
After several years of prototype design work, Tom's first "Hydristor" proved to have a 94% efficiency for power transfer, as tested by Tecumseh Labs in Ann Arbor, MI. Inside the Hydristor you will find two independent circuits which are dual pressure balanced to minimize the torque shaft load. Each circuit can operate at various speeds, in neutral, and in reverse conditions. Surrounding an inner and outer impeller vanes are two stainless steel belts, designed to operate at high speed, and change shape to adjust the power band to handle an infinite amount of ratios for power conversion. The complete circuit is defined as a dual analog hydraulic transistor. Tom anticipates over 100 patents are involved and are currently in various forms of litigation.
After 30 years of electronic, hydrostatic, magnetic, and industrial consulting, Tom Kasmer is ready to take his "Hydristor" to market. Currently, Tom has built a Hydristor specifically designed for a John Deere 200 series tractor. The unit's outer casing was machined out of one cubic foot of aluminum, and contains approx. 100 parts. The size of the unit dramatically increases hydraulic packaging weighing around 100 lbs., and able to transfer up to 100 horsepower with a 94% efficiency. Standard torque conversion is at best 60% efficient.
What does this mean for the consumer? Imagine a SUV with 100 miles per gallon? Or zero to 60 in 3 seconds? If the efficiency for this type of hydrostatic power conversion is available, and the Hydristor prototype is here... so what's next? Tom's current plans are demonstrating the tractor, and building a Hydristor to replace factory torque converters for aftermarket installations. After that, the work will resume on the Mag One, a dual flywheel hydristor high performance concept car.
Q: What is a Hydristor? A: It is a dual-analog hydrostatic transistor for mechanical energy conversion.
From the Editor:
On April 27, 2001, I was very fortunate to visit with Tom Kasmer, inventor of the Hydrisor. It was several years since our last conversation, and I was invited to discuss the near-complete prototype he is currently designing. I was quite excited to visit him in the machine shop, and get a 'hands-on' description of the Hydristor.
Tom walked me through both the assembly of the machined pieces, as well as a detailed item by item expanded view on the CAD workstation. Since this patented device is a prototype, I did not take any photos to respect Mr. Kasmer's intellectual property, but I did receive permission to post a link to a great technical article with images from Global Design News.
Tom added that the current prototype is almost finished and will be installed into a John Deere Tractor. Other applications for the Hydristor in the works include a four-wheel drive van, a high-efficient torque converter for OEM and aftermarket suppliers, a golf cart, a heat pump for low temperature horsepower generation, and then it is possible the Mag One will be back on the drawing board.
Several years ago, I had the pleasure of meeting Tom Kasmer, a vehicle designer with an extensive background in many high-tech fields, and a resume' that included development of IBM hardware used widely around the globe. His vehicle, the "Mag One" was one of the most advanced concepts I have come across ever.
Tom designed what he called the "Kasmer Hydristor" which was an infinitely variable hydrostatic transmission. This device was engineered to accept any amount of hydraulic force, and through the manipulation of 'analog' valve fluid gates, deliver the pressure to a dual set of Vickers hydraulic motors. Coupled to the "Hydristor" was a very unique flywheel, that contained a complex set of diode / commutators around / in the actual flywheel, which could 'energize' the flywheel with the smallest amount of electrical energy, not unlike a very advanced brushless DC servo motor. Attached to the flywheel was a special hydraulic pump that was engineered to work directly with the "Hydristor" manifold. There were no hydraulic hoses between the two devices, and the manifold was built to mount the dual Vickers motors, to which the drive shaft was connected.
To advance this vehicle to it's full potential, the flywheel / manifold assembly was hydraulically actuated for yaw, pitch and roll. This was necessary for cornering at high speeds. ( editors note: this vehicle was engineered with an estimated horsepower around a staggering 1200 HP ) Also, Tom claimed that the Mag One could perform several tricks, like lift up on two side wheels ( standing still ) and hang off a loading dock on two wheels without changing the horizontal position of the car.
---